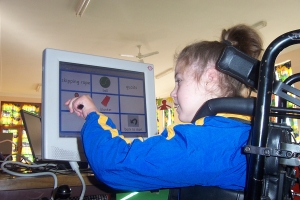 HoneyCom Solutions is committed to supporting Special Education Schools develop technology programs that will provide benefits to our children long-term.
We have been involved in not only raising money to assist our children and their schools purchase Touch Screens, but also in creating awareness for their needs and the enormous benefit Touchscreens can provide.
We have been involved in many fundraising events and to date have raised over $50,000.00 which has all gone to the specific schools supported.
Touchscreens benefit the children in the following ways.
Hand eye coordination
Fine motor skills
Gross motor skills
Confidence
Independence
Entertainment
Interaction
Concentration
Stimulation
Cause and effect
Productivity
Touchscreen Interface enables the use of a computer through TOUCH input; the working surface is now the size of the monitor. You can maneuver through normal applications or build skills and develop through learning activities. Through the computer and enhanced graphics, images with come to life, providing new experiences. Students will have access to all computer functions; this will assist them in keeping up with the class. With specialised software we can open up a new world of learning possibilities to improve and enhance the development of fine motor skills, cause and effect and coordination, ultimately preparing the child to progress in the use of other pointing devices, independence and quality of life.
If you would like to know more about how Touchscreens can assist your Special Needs School, or children please contact Carmelina (
Carmelina@honeycom.com.au
) or Mick (
mick@honeycom.com.au
) please visit Contact us for complete contact details.